The new pack, which has just won an award at the Liderpack awards, is made from 100% recyclable cardboard and its one-piece design reduces production costs.
Its child lock safety closure is CIC approved and certified, ensuring that children do not have access to the capsules inside the pack.
This new model, which replaces the previous plastic version, has been patented by Hinojosa and SPB with a clear customer focus.
Hinojosa Packaging Group, Europe's leading company in sustainable packaging solutions for more than 70 years, is collaborating with SPB to develop an alternative solution to the plastic boxes previously used to store water-soluble washing capsules.
SPB has started distributing its water-soluble capsules with this new packaging in France from July 2023, with the prospect of also reaching other countries such as Spain, the UK and Portugal in the near future. This expansion is possible thanks to the fact that Hinojosa has extended the utility model granted by the Spanish administration to these countries.
Hinojosa has patented this new packaging made from 100% recyclable corrugated cardboard. The company is once again ahead of customer needs by creating a plastic-free packaging that also enables production costs to be reduced thanks to its one-piece design.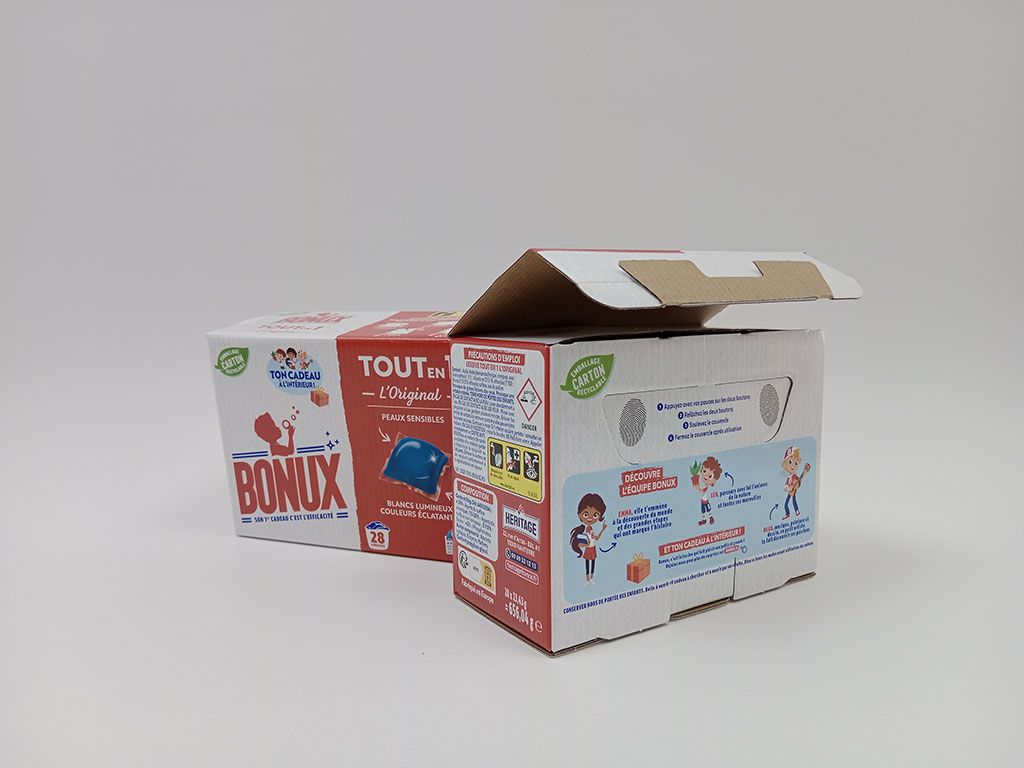 Liderpack Award Winning Packaging
This sustainable packaging for water-soluble capsules has also recently won a prize at the Liderpack Awards 2023.
The Liderpack Awards, created in 1995, are one of the most important packaging competitions in Spain. Promoted by the Graphispack Association and the Hispack show, these awards recognise innovation, creativity and sustainability in the design and production of packaging.
Sustainable and child-safe packaging
The special feature of packaging for water-soluble capsules is that they need to be certified as safe to close and cannot be opened by children. For this purpose, the closure system was tested with children up to 4 years of age. None of the children were able to open the packaging, which gave it CIC approval under the AISE protocol through the Technological Institute of Children's Products and Leisure AIJU.
The new packaging was also tested to prove that the strength of the CIC-certified closure system can withstand at least the same number of openings and closings as there are water-soluble capsules in the box (28 capsules), without losing safety due to the stress caused by this repeated action. Hinojosa's innovative packaging withstood more than the 28 openings required for each capsule of SPB product.